Towards Adiwiyata Mandiri PT BPI fully supported MI 2 Ujungnegoro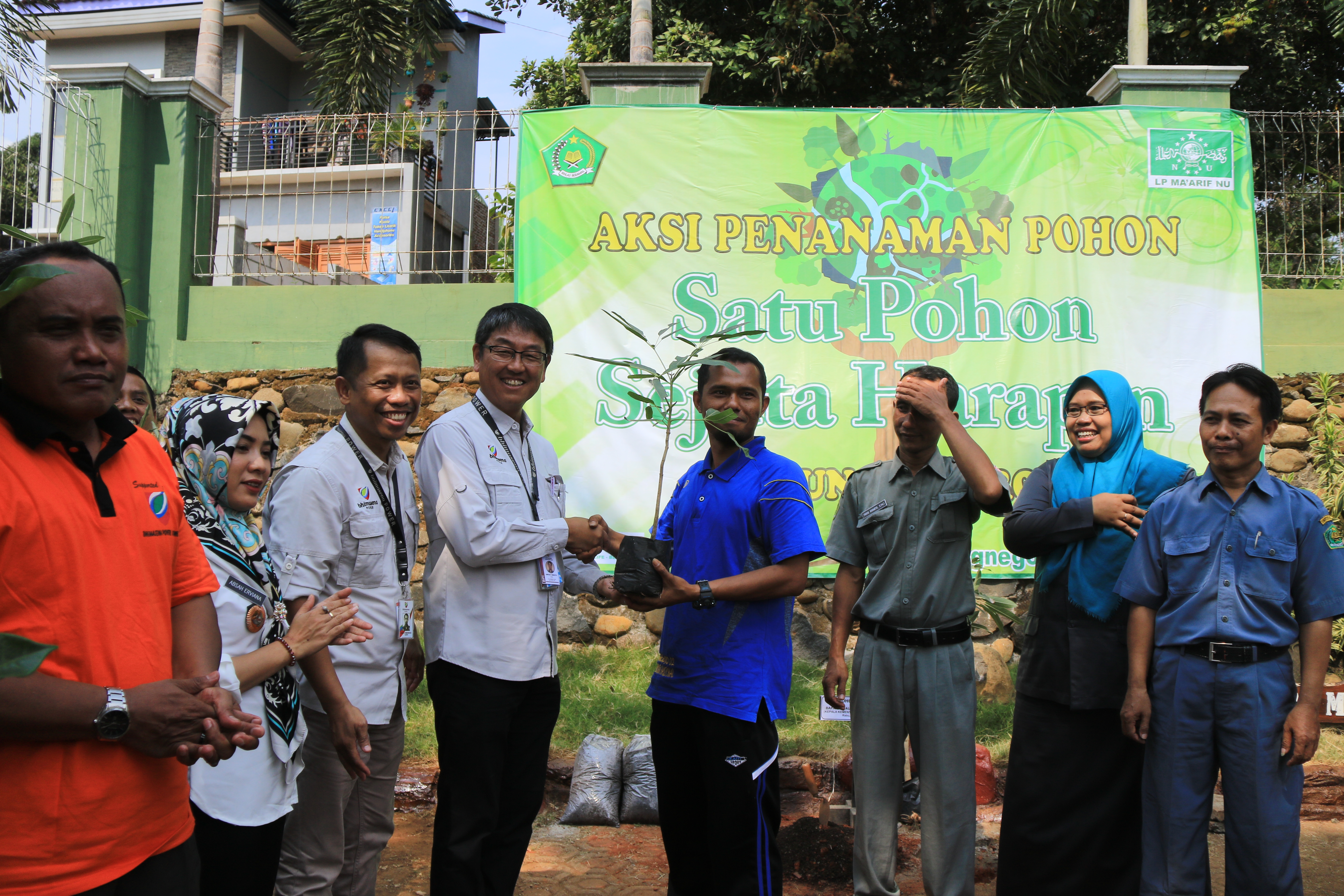 BATANG-Towards Mandiri Adiwiyata School, Madrasah Ibtidaiyah (MI) 2 Ujungnegoro, in the village of Ujungnegoro, by planting thousands of trees in the school environment and three schools Madrasah Ibtidaiyah. One of the requirements to become an Adiwiyata Mandiri school is to have a minimum two-school target school to become Adiwiyata school.
The principal of MI 2 Ujungnegoro, Sugiharto admitted very seriously to be able to achieve the predicate of Adiwiyata Mandiri School, after 2018 ago has won national Adiwiyata. The success achieved by the school is one of the success of a synergity between PT Bhimasena Power Indonesia, schools, local governments, and other stakeholders.
"Our success is able to reach the national Adiwiyata School, because of the full support of CSR program from PT Bhimasena Power Indonesia, students, teachers, parents and village governments and stakeholders." Said Sugiharto, principal of MI 2 Ujungnegoro, Wednesday (20/11)
Further explained, that to go to the Mandiri Adiwiyata School, the MI Ujungnegoro has 3 target schools, MI Salafiyah Beiji, MI Nurul Ulum Depok, and the MI Darussalam Juragan village.
Meanwhile, Shiroki Yamashita, COO of PT Bhimasena Power Indonesia, said that the existence of PT BPI is to support the full program that is beneficial for village community progress through CSR program. One of them is Adiwiyata school which is a priority scale for CSR program.
"We support the full program of MI 2 Ujungnegoro to reach the Mandiri Adiwiyata. As this is one form of implementation of EIA. We are very proud, PT BPI CSR program can be beneficial for the village community OF Central Java Power Plant 2 x 1,000 MW in Batang. " Said Shiroki Yamashita, in his speech at the Action tree planting event, with the theme of One tree of a million hopes, at MI 2 Ujungnegoro, Wednesday (20/11).
Yamashita hoped, the Adiwiyata School of PT BPI was actually able to utilize the company's CSR Program, especially MI 2 Ujunengoro who has received national Adiwiyata School, and is currently heading to Mandiri Adiwiyata School.
While the Head of the village of Ujungnegoro, Absah Erviana felt proud of the success and success of MI 2 Ujungnegoro who has been awarded National Adiwiyata School. However it is an extraordinary achievement, a private school from a remote village that is able to demonstrate its ability in the national arena.
"I hope, PT BPI continues to support the full Adiwiyata school program in Ujungnegoro village, especially MI 2 Ujungnegoro who is currently heading to Adiwiyata Mandiri." said Absah Erviana, head of the village of Ujungnegoro. Wednesday (20/11).
Further expected to all parents, teachers and community leaders to be able to support the full program of the Adiwiyata school MI 2 Ujungnegoro in order to succeed to achieve the Adiwiyata Mandiri.