Keep the Commitment to Increase Fisheries Resources PT BPI again added fish apartments installation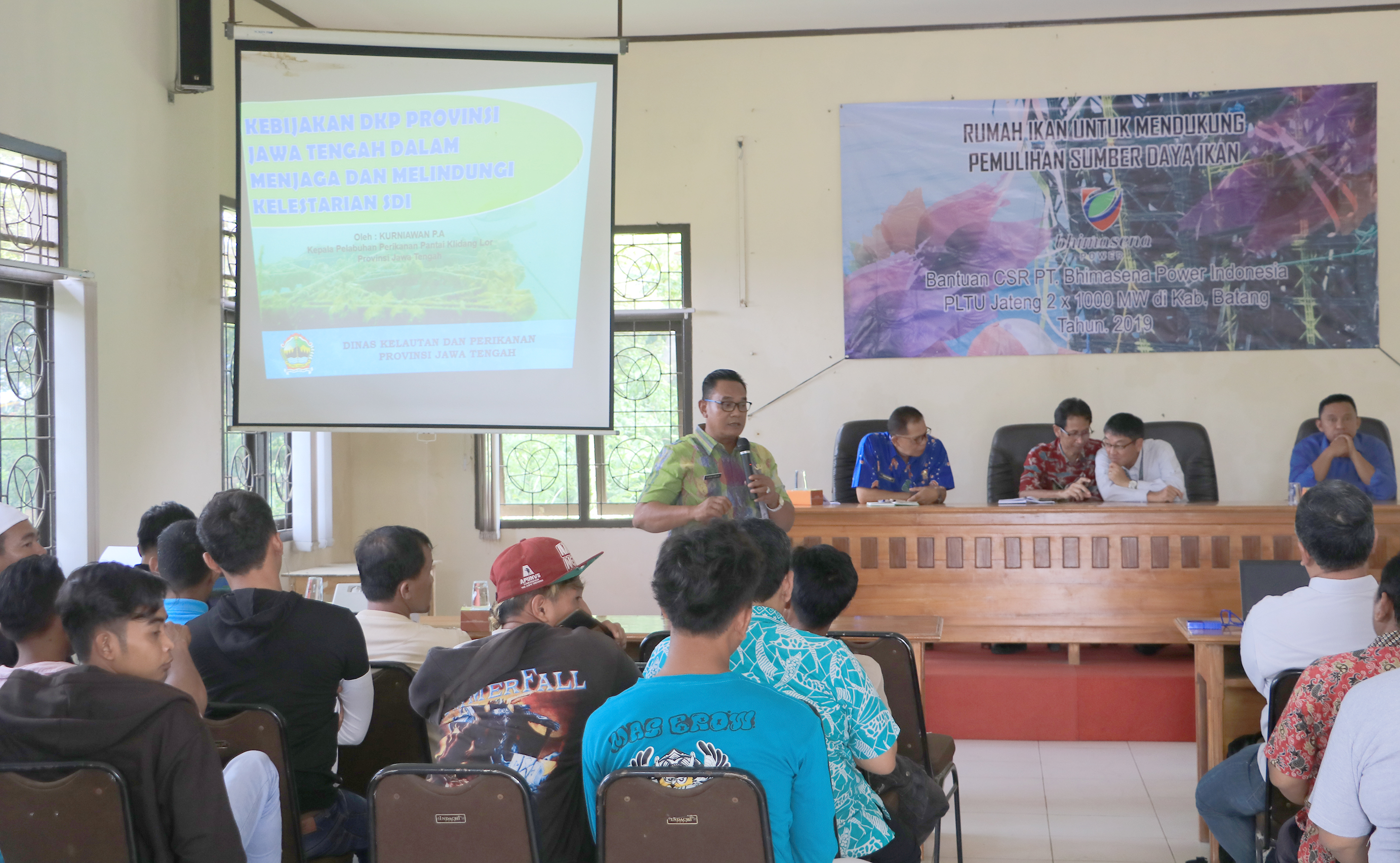 BATANG - Maintaining commitment to increase fisheries resources in the sea around the construction area of the CJPP 2 x 1,000 MW in Batang District, PT Bhimasena Power Indonesia (BPI) together with the Central Java Provincial Maritime and Fisheries Office, Maritime Affairs, Fisheries and Livestock Services in Batang, Port Klidang Lor Coastal Fisheries and the All Indonesian Fishermen Association (HNSI) Batang conducted a socialization on the construction and installation of fish houses which was held in the Fisherman Meeting Hall - Sigandu Batang.
This program is a form of BPI's support for government programs in order to increase fisheries resources in Batang sea waters. According to the Head of the Klidang Lor Coastal Fisheries Port, Kurniawan, in the North waters of Java it is already in a dense fishing situation which results in a decrease in fishery resources
"Facts on the ground show that there are still many fishing tools like mini trawling (illegal fishing) that are still operating, so there is no place for protection of eggs and fish larvae," said Kurniawan, in a socialization event to build a Fish House.
He further emphasized that the installation of Fish Apartments is a good form of initiative in the context of increasing fishery resources. They also received an explanation of the benefits of the fish house, caring for and maintaining it, and the location of the placement of the fish house in accordance with the RZWP3K space allocation in Central Java Province.
While the Chairman of the Batang Regency HNSI, Teguh Tarmojo expressed his gratitude to BPI and other relevant parties who consistently held the commitment to support the fish apartments construction program for the welfare of fishermen.
Meanwhile, Shiroki Yamashita, COO of BPI, said that BPI continues to carry out its commitment in supporting government programs and will collaborate with fishermen. As for this 2019, BPI made 125 Fish Apartment modules which will be placed 10 Kilometers from the power plant and 8 Kilometers from the Roban area. Whereas from 2016 to 2018, there were a total of 140 modules of fish apartments installed so that the total fish apartments installed by the end of 2019 were 265 modules.
"This activity is a form of the company's commitment to improve the economy of the fishermen around the CJPP, while maintaining the environment. It is hoped that fisheries production will increase and the synergy between community groups with BPI and government support can lead to sustainable local community empowerment activities, "Shiroki Yamashita explained in the Fish Apartment socialization.