As Eid al-Fitr Approaches, BPI Distributes Social Compensation for Farmers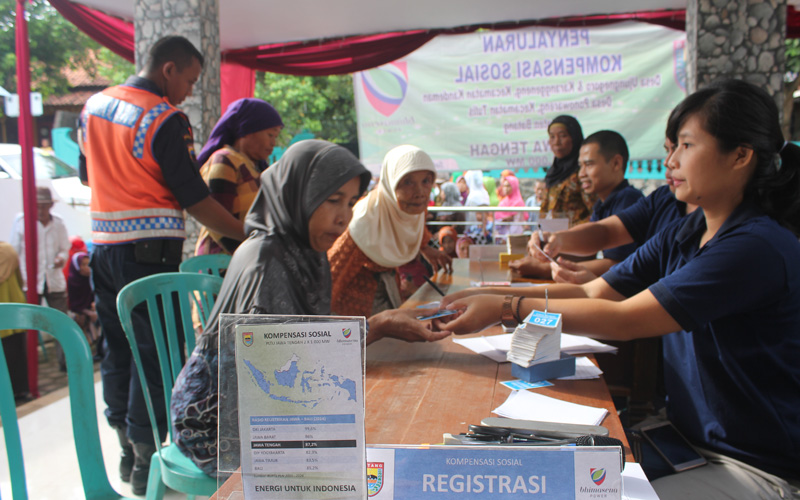 Tuesday, June 28, 2016 – In the lead up toward Eid al-Fitr, PT Bhimasena Power Indonesia (BPI) continue to distribute compensation funds to approximately 700 farmworkers and farmers that work on the areas affected by PLTU Batang from Karanggeneng, Ujungnegoro and Ponowareng villages. BPI will be distributing compensation packages for two periods, i.e. June and July 2016, located on Karanggeneng Village, Tuesday (28/6).
Mohammad Effendi PT BPI President Director said that since PLTU Batang's project began in 2011, BPI along with Batang regional government has been actively socializing the benefits of the PLTU which employs the Ultra Super Critical technology.
"The Central Java PLTU is expected to generate great and far-reaching benefits. The operation of the PLTU will support national energy supply, propel economic growth and increase investment, especially in Batang and Central Java," Effendi explained (28/6).
According to Environmental Impact Assessment (AMDAL), BPI has a number of Central Java PLTU activity impact management programs. Aside from regularly channeling social compensation packages, BPI also implements sustainable public empowerment and development programs with the aim of providing alternative aid to assist the shift in income-generating activities following the construction of the PLTU.
Effendi said that BPI will soon provide land which the affected farmers and farmworkers will be able to work on. The substitute land will be located near the PLTU Batang area. Currently, socialization on the substitute land continues to be conducted intensively.
"For affected fishermen, we will also be providing a solution by installing fish aggregating devices (FADs) and navigation aids," he said.
On June 6, 2016 BPI has reached financial closure or agreement on project financing with creditors, valued at US$ 3.4 billion. With the financial closure, PLTU Batang's construction will no longer be hindered by obstacles, considering the land acquisition process has also been finalized.
"We are grateful to have the extraordinary support from the Central Government, Regional Government, PLN as well as the public that allows the PLTU to operate immediately. Our commitment is to realize that hope, in line with our target," Effendi added.
With regard to the first PLTU mega project built on the Public-Private Partnership scheme, Yoyok Riyo Sudibyo Batang Regent expressed an urge to Batang natives working away from their hometown to return and work hand-in-hand to build the village together.
"Since the beginning, BPI has absorbed local manpower to support the construction project. Let's all take part because Batang is the largest energy center in Asia," Yoyok concluded.
About PT Bhimasena Power Indonesia
PT Bhimasena Power Indonesia (BPI) is a consortium of Electric Power Development Co., Ltd. ("J-Power"), Itochu Corporation ("Itochu") and PT Adaro Power, which is wholly owned by PT Adaro Energy.
Central Java CFPP 2 x 1,000 MW is the first infrastructure project of Public Private Partnership (PPP) and implement scheme the Build, Own, Operate, Transfer (BOOT). This project became part of the Master Plan for the Acceleration and Expansion of Indonesian Economic Development that will be the locomotive of economic development of Java. Central Java CFPP 2x1.000 MW will use the latest technology that is more efficient and environmentally friendly, Ultra Super Critical.