Consistent with Environmental Responsibility PT BPI won 3G Award 2019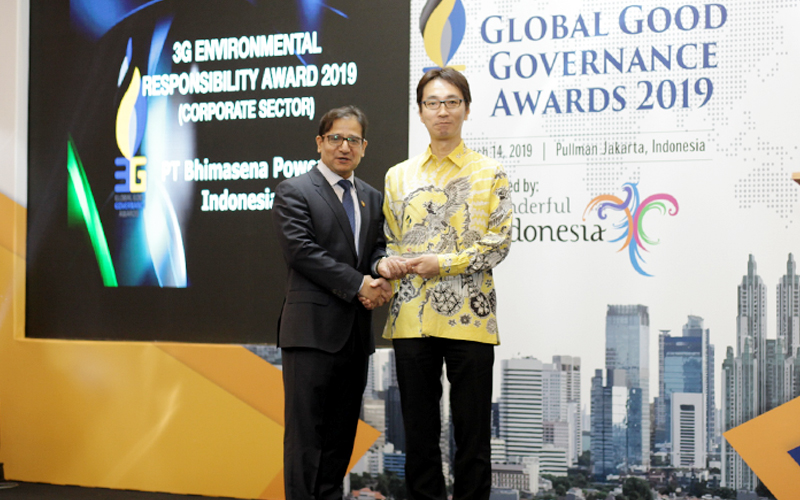 JAKARTA-Success in managing and implementing environmental responsibility programs, PT Bhimasena Power Indonesia (PT BPI) won the 3G Environmental Responsibility Award in the 2019 Global Good Governance Award (3G Award). The award was given by Professor Humayon Dar from Cambrige IF Analytica Limited , at the Pullman Hotel Jakarta, Thursday night (3/14).
According to the President Director of PT BPI, Yasuhiro Koide, this award is evidence that the company's hard work together with the Batang district government and also the community in various CSR programs received international recognition.
"This is a form of trust and at the same time the success of CSR programs that have been carried out consistently and continuously for the communities around our project," said the President Director of PT BPI, after receiving an award in Jakarta, Thursday night (14/03).
A consulting company engaged in promoting good governance and social practices, Cambrige IF Analytica Limited based in the UK considers PT BPI to have outstanding achievements in managing environmental responsibility. Even in 2018, PT BPI also won the 3G Award in the category of social empowerment, in Kuala Lumpur Malaysia.
According to Bhayu Pamungkas, CSR Senior Manager of PT BPI, the award given by Cambrige IF Analytica Limited in succession in different categories, this shows that the comprehensive CSR program is very effective for affected communities.
Further explained, that BPI has carried out various environmental care programs such as environmental cleanliness awareness programs, ecosystem restoration programs such as greening, coastal ecosystem restoration, fish apartments, and garbage bank programs, household-level organic waste management, composting and biodiversity monitoring. in the generator project environment periodically. (*)