Commemorating National OHS Month, BPI Collaborates with Red Cross (PMI) Batang Regency Organize Blood Donation Activity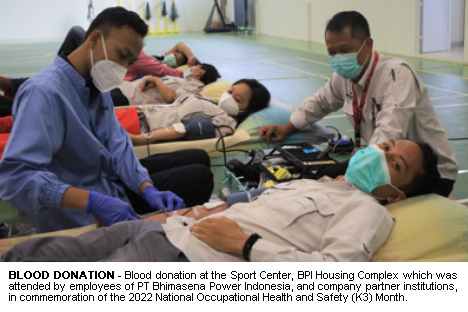 BATANG—PT Bhimasena Power Indonesia (BPI) in collaboration with the Indonesian Red Cross (PMI) of Batang Regency held a blood donation event with the theme "Give Blood, Give Life" at the Sport Hall - BPI Housing Complex (29/03).
The blood donation activity is one of a series of events in to commemorate the National Occupational Health & Safety Month. The activity, which was carried out by following the Covid-19 health protocol, involved employees and partners from BPI. Since 2017, BPI together with community institution partners, Village Libraries spread across 15 villages around the Central Java CFPP, have donated 3,372 bags of blood to PMI Batang Regency, consisting of 765 bags of blood from the blood donation program for BPI employees and partners and 2,607 bags blood from the activity program of 15 village libraries.
"This blood donation activity is a form of the company's social care for the community who need blood. We always cooperate with PMI Batang Regency to be able to help and donate blood for the needs of the community." Yoshimitsu Fujii, Chief Operational Officer of BPI said, Tuesday (29/3).
Yoshimitsu Fujii explained that during the blood donation activities carried out since 2017, 3,372 bags of blood were donated to PMI Batang Regency. The achievement of these activities is one of the company's successes in fostering and maintaining communication with CSR program partners, both with the village libraries, PMI Batang Regency, the community, and company employees.
Meanwhile, Putut Husamadiman, the PMI Management of Batang Regency greatly appreciated the blood donation activities organized by BPI. The company has made many contributions for social purposes through PMI Batang Regency.
"This blood donation activity is very helpful and at the same time relieves PMI Batang Regency in fulfilling the blood needs in the Batang Regency area. This routine activity makes PMI Batang Regency a mainstay to meet the stock of blood needs," said Putut Husamadiman, in his opening remarks at the blood donation event conducted by BPI in commemoration of the National Occupational Health and Safety Month, at the Sport Hall - BPI Housing Complex, Tuesday (29/3).
PMI Batang Regency hopes to BPI that this blood donation activity can continue longer and be sustainable. "We have high hopes that this activity will continue for an indefinite period. Highly appreciation to BPI for always cooperating with PMI Batang Regency in several social activities and disaster management," said Putut Husamadiman.
In addition to blood donation activities, BPI has also carried out a series of activities in February 2022 to commemorate the National Occupational Health and Safety Month such as the "Safety for Everyone: Effective Personal Protective Equipment" Webinar and a photo competition with the theme "Safety for Everyone" which was participated by all BPI employees. (*)
Corporate Communication
PT Bhimasena Power Indonesia