PT BPI Assisted Medical Devices for 57 Integrated Health Service Posts in 14 Villages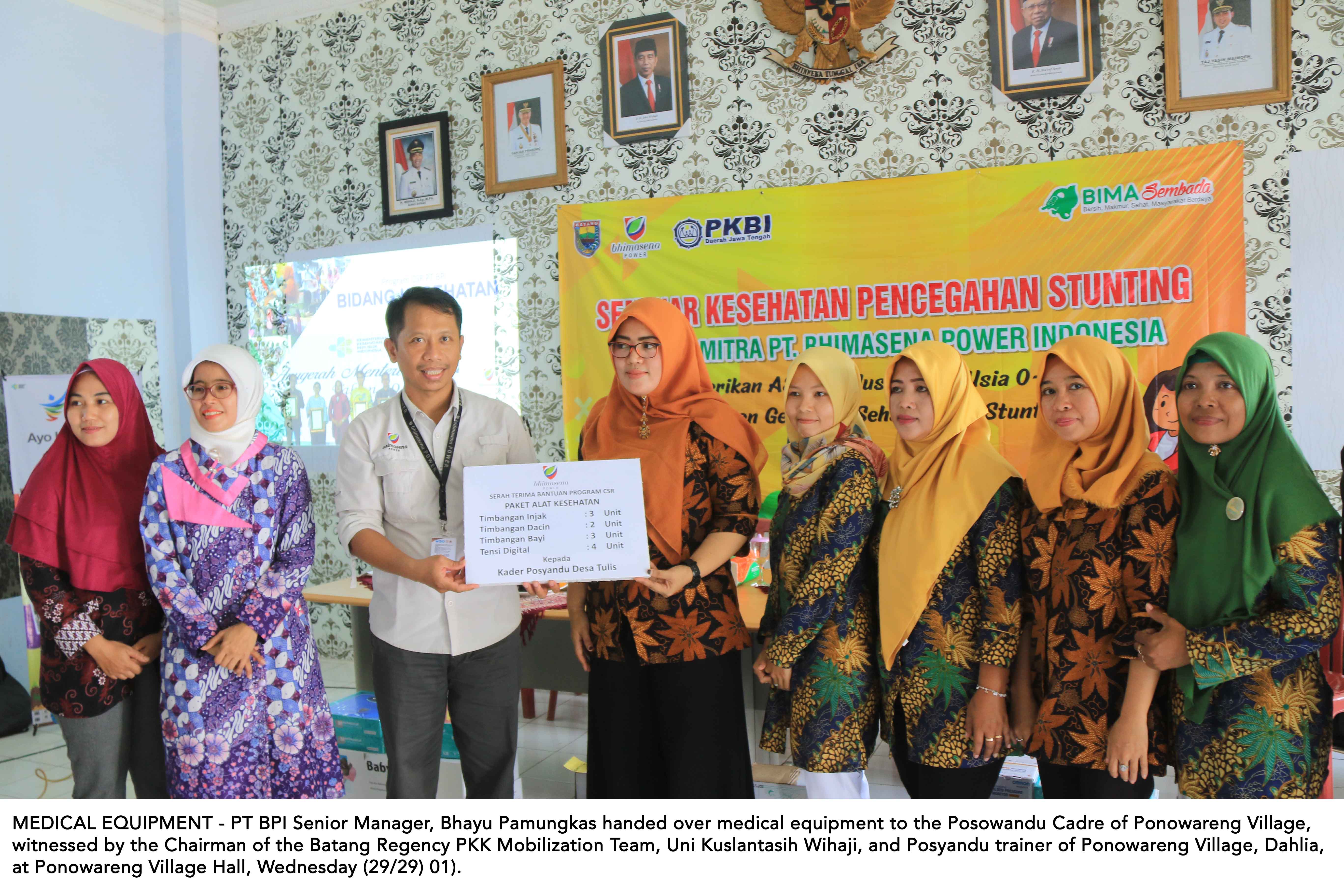 BATANG - PT Bhimasena Power Indonesia (PT BPI) handed over medical equipment assistance to 57 Integrated Health Service Post (Posyandu) in 14 villages in the Tulis Village and Kandeman Village. The assistance was handed over directly by PT BPI's Senior Manager of CSR, Bhayu Pamungkas, witnessed by the Chairman of the Batang District PKK Mobilizing Team, Uni Kuslantasih Wihaji, to Posyandu cadres in Ponowareng village Hall on Wednesday (29/01).
In his direction, Chairman of the Batang District PKK Mobilizing Team, Uni Kuslantasih Wihaji hoped all Posyandu cadres to be even more enthusiastic in carrying out this social work. Because Posyandu is a health pioneer movement at the village level that is very helpful for government programs.
"We are grateful to PT BPI for their care and contribution to the community around the CJPP. We hope that PT BPI's CSR will continue to assist and side with the community, both in health, education, economics and always synergizing with the Regional Government. "Said Uni Kuslantasih, wife of Batang Regent, Wihaji, after giving directions to Posyandu cadres in the 14 villages around the CJPP, Wednesday (01/29).
Meanwhile, Shiroki Yamashita, Operations Director of PT BPI, said that the activity of strengthening the Posyandu cadre and medical equipment assistance is a form of the company's commitment in supporting the development of Batang's public health. such as training programs, the formation of business groups for Posyandu health cadres, PMT support, medical devices and infrastructure for PKD and Puskesmas Assistant (Pustu) in the villages around the construction of the Central Java CFPP 2 x 1,000 MW.
As with health seminars, with the theme "Let's Give Exclusive Breastfeeding to infants 0-6 months, Create a Healthy Generation Without Stunting", delivered by the Head of the Batang Health Office, dr. Hj. Hidayah Basbeth is a concrete form of community health empowerment activities.
"Since 2013, PT BPI has collaborated with the Batang District Health Office, in improving public health, especially Mothers and Children (KIA) and strengthening the knowledge of posyandu cadres," explained Shiroki Yamashita
Further explained, until now the total cumulative assistance of medical devices provided is as many as 430 medical device packages for 57 posyandu in 14 villages around the Batang CFPP, and there are 14 Village Health Forums (FKD) that have been revitalized through the BIMA SEMBADA program (Clean, Prosperous, Healthy, Empowered Communities).
"The BIMA SEMBADA program is a village-based health strengthening movement focusing on strengthening health cadres, revitalizing the Village Health Forum (FKD), ODF (Open Defecation Free), PMT (Supplementary Feeding) for posyandu cadres, supporting health facilities for posyandu and PKD (Village Health Post), capacity building for medical personnel and the development of environmental health programs. "said Yamashita.
Corporate Communication
PT Bhimasena Power Indonesia