Participating in Alleviating Stunting - ODF and Providing Health Insurance for Pre-Prosperous Residents in Batang, BPI Received Two Appreciation from Batang Regency Government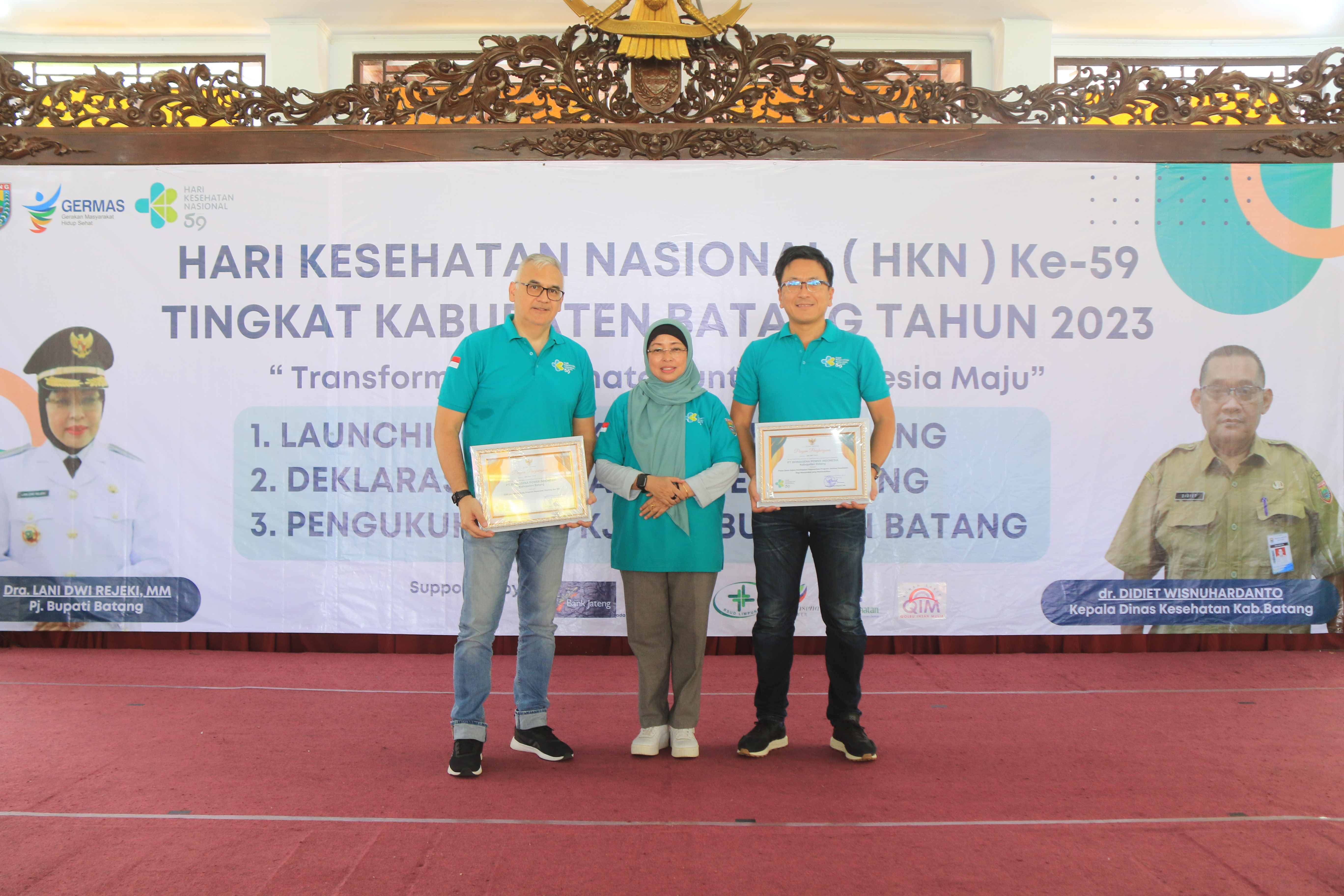 BATANG – PT Bhimasena Power Indonesia (BPI) received 2 (two) appreciations from the Batang Regency Government (Pemkab Batang), namely as a CSR Program that Supports the Stunting & ODF Reduction Program and as a Company that Participates in Financing the Health Insurance Program for Pre-Prosperous Communities.
Appreciation for BPI's active role as a private company that cares about improving public health in Batang Regency was given by the Acting Regent of Batang, Lani Dwi Rejeki to BPI's Chief Operation Officer, Yoshimitsu Fujii and GM Stakeholder Relations Aryamir Husein Sulasmoro at the 59th National Health Day Celebration at the Batang District Health Service (11/9).
Chief Operational Officer of PT Bhimasena Power Indonesia, Yoshimitsu Fujii expressed his gratitude to the Batang Regency Government for giving the appreciation to the implementation of BPI's Corporate Social Responsibility (CSR) program for handling stunting in Batang Regency.
"The successful implementation of BPI's CSR programs can be achieved because of trust, support, partnership, collaboration, and synergy between companies, local governments, and communities, therefore I represent BPI management to thank all parties who have always supported BPI to date," said Yoshimitsu Fujii.
Acting Regent of Batang Lani Dwi Rejeki expressed his appreciation to BPI and all private companies in Batang Regency who have collaborated with the Batang Regency Government in handling stunting in the Batang Regency area.
"The efforts of the Batang Regency Government to accelerate stunting handling in the Batang Regency area are carried out using the pentahelix collaboration method involving the government, private sector, the business world, the community and the media crew have produced very good results. Based on records through the measurement of the electronic application-Community-Based Nutrition Recording and Reporting (E-PBGM) in May 2023, the stunting rate in Batang Regency reached 9.6 percent of 56 thousand children under five," said Lani Dwi Rejeki.
Yoshimitsu Fujii explained, the implementation of BPI's CSR program in the health sector has been implementing since 2012, including through health service improvement programs, Supplementary Feeding (PMT) for Integrated Health Post (Posyandu) and Stunting Programs, medical equipment assistance, as well as capacity building for health workers, posyandu cadres, and village midwives, health counselling for the community through the Healthy Living Community Movement (GERMAS) program, and business capital assistance to CSR program partner villages BPI.
"BPI has contributed in providing support to Posyandu services and PMT assistance since 2012 until now which is given to toddlers and the elderly in 57 Posyandu in 14 BPI CSR program partner villages, and has provided 1,232 packages of medical equipment assistance to groups of health cadres and village midwives," said Yoshimitsu Fujii.
Meanwhile, interventions in sanitation programs and access to clean water that bring children closer to the risk of infectious diseases are carried out by supporting counseling, getting used to washing hands using soap and running water, and supporting the Open Defecation Free (ODF) program or not open defecation since 2017. As of October 2023, BPI has supported 2,183 jambanization packages in 14 villages and 14 of these villages have been successfully declared ODF status.
BPI also supports public facilities infrastructure assistance to residents in CSR program partner villages, namely assisting the renovation of uninhabitable houses (RTLH) which aims to support and improve decent and quality housing, so that public health is well maintained. From 2019 to October 2023, BPI's CSR program has provided 52 RTLH renovation packages to residents in Batang Regency. ***