Support Economic Recovery from the Impact of COVID-19 Pemprov Collaborates with PT BPI CSR to Provide Herbal Drinks (Empon-Empon) Processing Equipment
BATANG - The government continues to strive to assist the economic recovery of the impact of Covid-19 on the community and small and medium enterprises. The Central Java Provincial Government through the Environment and Forestry Service (DLHK) collaborates with the CSR program of PT Bhimasena Power Indonesia (PT BPI), and the BUMD CSR Forum helps small and medium enterprises in the Batang Regency area.
This assistance is a stimulant that is expected to be able to improve the community's small businesses so that they can restore the economy of the people affected by Covid-19. According to Erik Kristiono, S.IP., MM, Secretary of DLHK for Central Java Province, this assistance program is a form of concern for the government and private companies to take part in alleviate the plight of the people affected by Covid-19.
"This CSR assistance is expected to help and alleviate the plight and be able to restore the economy of the people affected by Covid-19." said Erik Kristiono, S.IP., MM. Brokoh Village, Wonotunggal Subdistrict, Batang Regency, Monday (24/08).
He further explained that PT Bhimasena Power Indonesia's CSR assistance and the Provincial BUMD CSR Forum in collaboration with the Central Java Province DLHK were in the form of a chopper or "empon-empon" (herbal drinks) grater machine, pressing machine, powder making machine, show case (cooler), and display case.
"All the equipment provided to KWT (Women Farmers Group) Larasati uses diesel and electricity, so that they can maximize their production, because they no longer use manual equipment," stressed the Secretary of the DLHK Central Java Province.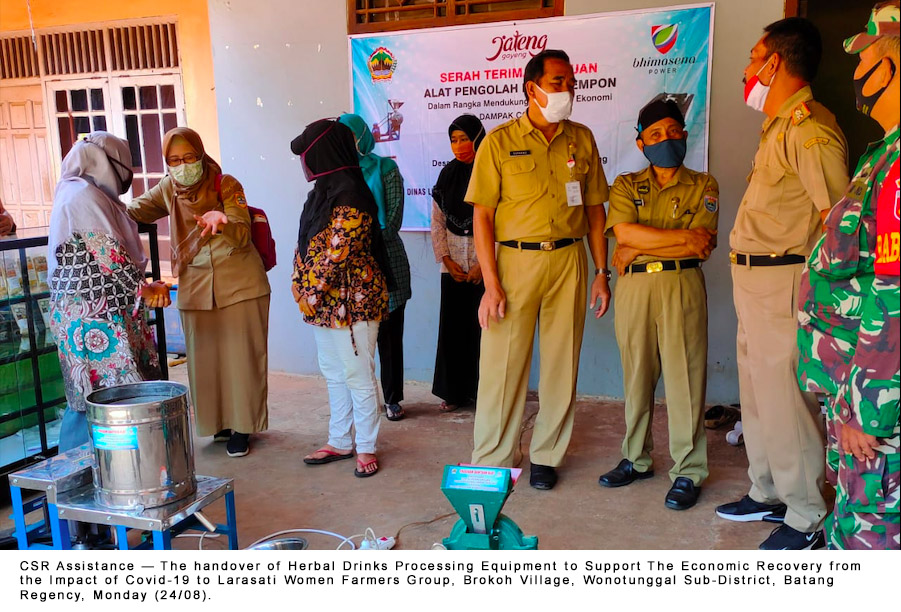 The Head of Brokoh Village, Mukmin also admitted that he was very happy with the provision of this CSR program assistance to the people who are currently affected by Covid-19. The Mukmin also expressed his gratitude to the Provincial Government, PT BPI CSR and the Provincial BUMD CSR Forum for caring for its citizens.
Meanwhile, Purwati, Chairperson of the Larasati Women Farmers Group (KWT), Brokoh Village, Wonotunggal Subdistrict, Batang Regency, hopes that this guidance can increase business production, both in terms of production and quality.
"In addition to equipment assistance for production, we hope there will be assistance through training in hygienic processing, packing, marketing, POM business permits, Halal certificates, and up to the formation of cooperatives. 'Said Purwati, chairman of KWT Karasati, Brokoh Village, after receiving the assistance, at Balaidesa Brokoh, Wonotunggal District.
PT Bhimasena Power Indonesia's COO, Shiroki Yamashita, said that since the Covid-19 pandemic, the company has carried out various kinds of assistance and activities that support the prevention and handling of the spread of Covid-19. Starting from the village environment around the construction of Batang CFPP 2 x 1000 MW to a number of regency points.
"We have distributed assistance in handling and overcoming the spread of Covid-19 in the form of quarantine houses in Ujungnegoro Village, hand sanitizers, PPE kits, masks, hand washing stations in a number of village halls and crowded spots, and spraying disinfectants regularly. "Said Shiroki Yamashita.
It was further explained that internally PT BPI and its contractors had implemented and carried out strict health protocols. All workers and guests who enter the project area, must comply with health protocols, including masks, checking body temperature using automatic equipment, thermo cams installed at the entrance to the project area.
"Physical distancing, providing hand sanitizers, washing hands, checking body temperature every day, and spraying disinfectants regularly, both workspaces, environments, and operational vehicles," said Shiroki Yamashita.