3 BPI CSR Programs Won CSR & PDB Awards 2022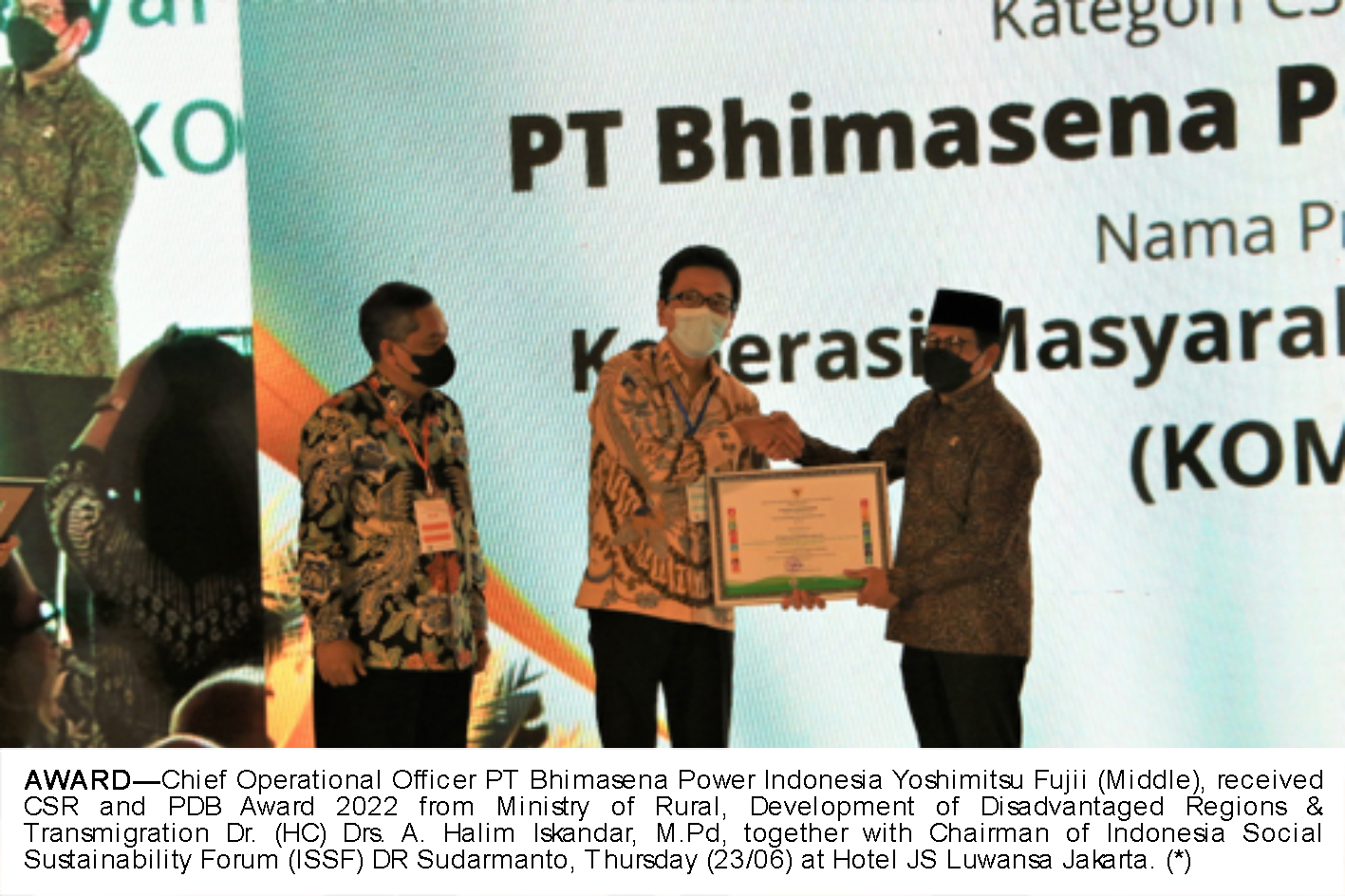 JAKARTA—The success of PT Bhimasena Power Indonesia's (BPI) Corporate Social Responsibility (CSR) program in implementing, fostering, and developing the economy, health, and resources of rural communities, has received an award from the central government. The Ministry of Rural, Development of Disadvantaged Regions, and Transmigration in collaboration with the Indonesia Social Sustainability Forum (ISSF) awarded three CSR programs of BPI that were successful in their implementation.
Three of BPI's CSR programs such as the Village Community Entrepreneurship Program, Village Community Health Program and the Microfinance Institution Program are included in the category of CSR programs that were successfully implemented by the company and deserved the 2022 CSR & PDB (Sustainable Village Development) Award.
The Vice President of the Republic of Indonesia, Prof. DR (H.C.) K.H. Ma'ruf Amin, conveyed his congratulations to company leaders, be it BUMN, Private, BUMDes, Regents and Mayors who have received the CSR award and the 2022 PDB Award from the Ministry of Villages, Development of Disadvantaged Regions and Transmigration in collaboration with ISSF. This award is one of the government's appreciations for companies that have successfully implemented their CSR programs for economic empowerment of rural communities and increased regional development.
"With this award, it is hoped that it will foster motivation in supporting village development and development through empowering Village Owned Enterprises BUMDes)" said K.H Ma'ruf Amin in his opening speech after handing over the CSR & PDB Award 2022 at the Ball Room JS Luwansa Hotel Jakarta, Thursday (23/6).
The Vice President hopes that all companies, both BUMN and private, will always improve the empowerment of rural communities to create a solid economic structure through the implementation of CSR programs. Because the village is the starting point for economic growth and at the same time the center of Indonesia's future development growth.
Meanwhile, Minister of Villages, Development of Disadvantaged Regions and Transmigration Abdul Halim Iskandar said that this award is a form of government appreciation for BUMN and private companies, which have helped improve the economy of rural communities and the growth of village development. Including appreciation to the Regents and Mayors who have been able to create community economic growth through tourist villages.
"Thank you to all parties, especially the leaders of BUMN, private companies, BUMDes, regents and mayors who have helped and encouraged the economic development of rural communities through their CSR programs." Said Abdul Halim Iskandar, Minister of Villages, Development of Disadvantaged Villages and Transmigration in his speech.
Chief Operational Officer of BPI, Yoshimitsu Fujii on behalf of BPI received the award and expressed his gratitude to the government and all elements of stakeholders who have supported, synergized, and succeeded in BPI's CSR program in the context of improving the economy of rural communities, health, and village development, especially villages that are located in the vicinity of the Central Java 2 x 1000 MW CFPP project in Batang Regency.
"Hopefully this award will inspire us to further improve the performance of the company's CSR programs in a better and more useful way and involve more villagers and the government."