Improving Community Empowerment, BPI Improves Various Social And Partnership Programs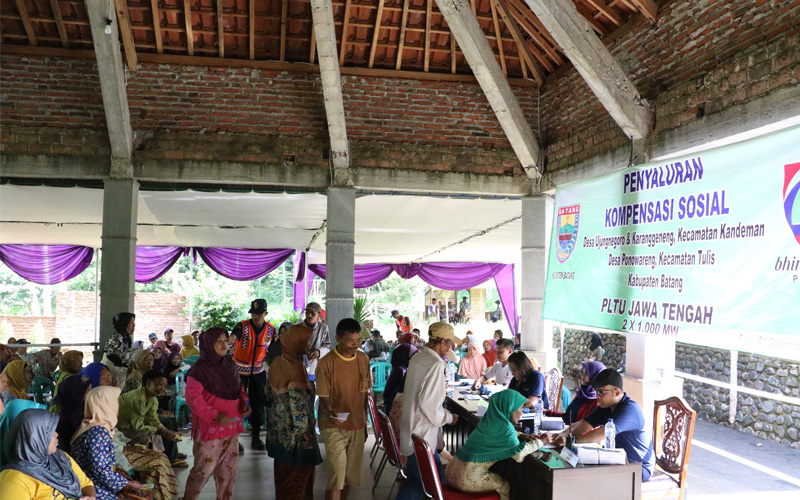 Batang, December 21 - Around 700 affected farmers received social compensation again from PT Bhimasena Power Indonesia, at the Ujungnegoro village hall, Kandeman District, Batang Regency, Wednesday (21/12). The social compensation program was initiated by BPI as a solution to changes in livelihoods due to the Central Java CFPP land acquisition process. These affected farmers receive limited social compensation to support their lives.
In the long term program, replacement land has also been prepared for use as an agricultural area. The 32 hectares of replacement land in Sembojo Village has gradually been used for agriculture. Each tenant who is entitled to receive replacement land can cultivate an area of ​​1200m2, and some of them have started enjoying the rice harvest last September.
Meanwhile, for affected fishermen, BPI has also conducted socialization and installation of fish apartments that function as artificial habitats. The fish apartments installation is carried out to restore less productive fishing areas so that it is expected to increase fishery production and be used sustainably by fishermen.
BPI has also initiated various partnership programs for community empowerment. One of them is by promoting the community's economy through the formation of Micro Enterprise Group (MEG), which until October 2016 reached 116 groups with up to 1800 members. Each MEGs manages certain businesses such as convection, food production, services (catering, laundry), livestocks, to savings and loan cooperatives.
In carrying out its various programs, BPI also often collaborates with various partners, including the Batang Regency Regional Library and Archives Office and the Coca Cola Foundation for the Perpuseru program. Through this program BPI supports the village library by providing several library infrastructure assistance, computer packages and reading books. Through this program, it is hoped that the library can be present in the community as a source of information as well as a center for learning based on technology and information.
BPI is currently in the construction process and it is hoped that it will be fully operational in 2020 to contribute to the national electricity supply.